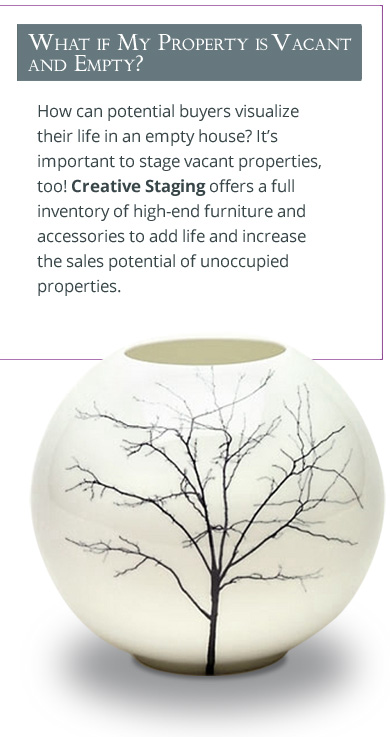 Our Services
Step 1:

Complimentary Staging Consultation – FREE

Your initial visit is entirely free of charge.  During this time, our Staging Experts will conduct a complete property evaluation of the inside and outside of your home.  We will take measurements and photos for the creation of a customized Staging Report and Action Plan – also free of charge.
Step 2:

Execution of Customized Action Plan

Once you review and approve your customized Staging Report and Action Plan, we will schedule your Staging date and move forward with the execution of your plan. Our primary goal will be to showcase the main selling features of your home.

On the day of the Staging, the Creative Staging Team  will arrive at your home on time to:
Remove, redistribute, and add high-end furniture pieces, as needed
Hang wall art and add additional lighting, wall décor, accents and accessories as needed
Add proper "impact items" to direct buyers' eyes to the assets of your home
Professionally pack unneeded items
Rest assured – during this process, we are totally "hands-on." You won't have to lift a finger! And once your home has been Staged, we will constantly monitor the sales process and follow the feedback of your potential buyers. If needed, we will conduct any "fine tuning" that needs to happen along the way to ensure your home's successful sale.
Additional Services
If your property requires some alterations to show as "model home ready," Creative Staging can help with additional services including:
Trusted Contractor Referrals
Custom Paint Color Recommendations
Product Recommendations (as needed) including countertops, flooring, lighting, etc.
Decorating assistance in your new home with special rates for our Staging clients!